Regular price
Sale price
$55.00 USD
Unit price
per
Sale
Sold out
Share
Best Selling Gift Set from 2021 is BACKKKKKK

2021 was about getting the most extra gift sets with the most goodies in them for you guys at the best price! We're rolling into 2022 that way too! If you're looking for an all inclusive gift for someone for Easter or needing something the "Easter Bunny" can drop off for the coffee lover in your life he's got you! The Lad has spent the better part of the last 3 months sourcing out this to make it EGGstravagant! (Sorry, dad jokes are coming) 
SHIPPING BEGINS for these on 04/01/2022
This 10" Clear Easter egg will be decorated to fit YOUR special someone! A small bunny, a cute quote, their name, maybe some animal print on the top of the egg, you tell me! I want to make sure this is taken to the next level and you get something you LOVE as well as something that can be reused for years to come should you so choose!
Included inside the egg will be:
QTY 1 - 24OZ Reusable cup with lid and straw - You pick the design and vinyl color! Depending on the design, that may be able to have a name on it as well!
QTY 1 - Water-resistant carry all pouch! This pouch can literally be used for ANYTHING and EVERYTHING! Slightly flared at the top, measuring roughly 8.5" along the top zipper and 7" along the bottom and about 5.3" high and are made of a water resistant fabric, these bags can be used for makeup, for toiletries, for pencils, pens and more! Add it to your existing purse to help keep you organized or add it to your gym bag for your post workout needs! This bag truly is so useful and with ALL the fun prints available for the holidays, different seasons and just everyday, you can NEVER have too many!
QTY 1 - 3.25" Rubber/Silicon Coaster
QTY 1 - 1FL OZ Hand Sanitizer from Bath & Body in select fragrance 
QTY 1 - 5.25" Faux Leather Wristlet in your choice of print! Pick the one the person receiving this would love the most!

Option to add a Gift Card!
Various candies/goodies to help celebrate the Easter Holiday!
Additional Personalization/Customization may be available as well as other cup designs may be able to be included at a different price. If you wish to chose something not available within the selections of this listing, please reach out to The Lad directly via email at plaidladwreathdesign@gmail.com
*shipping is exact based on product/box dimensions and weight. Due to the weight of this item, it has to ship priority mail. It will arrive within 1-4 business days from when the item is shipped as long as USPS experiences no delays. Boxes/additional packing materials were custom ordered to ensure the cup(s) make it to you without becoming damaged. If purchasing more than one cup, or cups with keychain(s) shipping may be combined please send The Lad a message to see if a combined shipping rate is possible!
View full details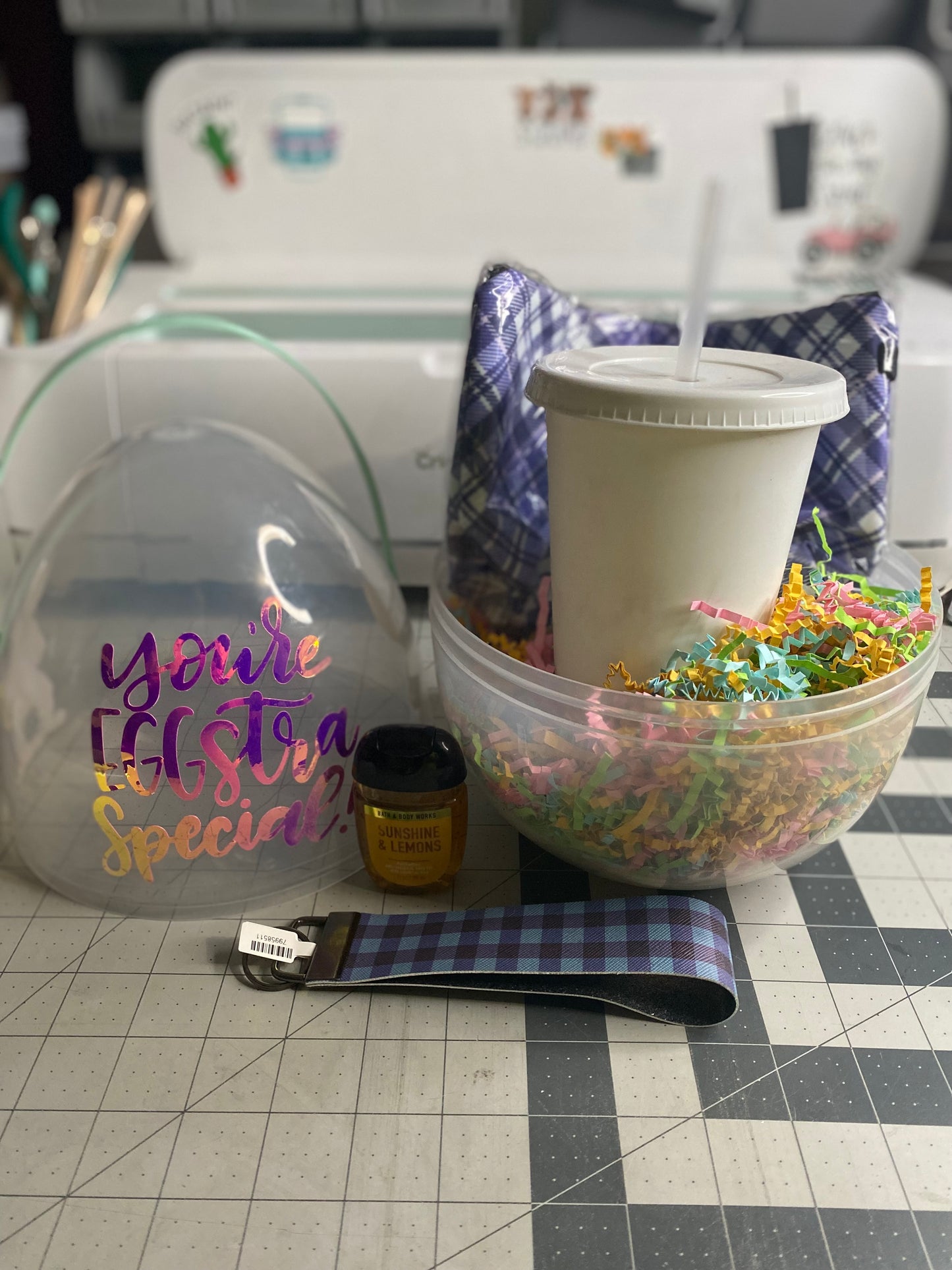 Shipping Information

Shipping for Ready To Ship (RTS) Item's generally happens within 5-7 Business Days (Sat/Sun/Mon Major Holidays excluded) Preorders can take up to 4-6 weeks (sometimes longer during peak holiday seasons) Shipping is ALWAYS calculated based on the item(s) weight during checkout via the USPS website going rates at that time. All items have been weighed and the items exact weight is used to calculate the postage required to ship your items to your address via the USPS website.

Item Troubles?

We stand behind our products! If something goes wrong with the item, and it slipped by Quality Control checking we will happily replace the item. We do require photos of the defect within the item and that it be shipped back to us.